Siem Reap: Teah, Temples and a Tad Bit of Dehydration
There's just no possible way to sum up our entire trip in one post, so I'm starting from the beginning, city by city, with pictures and stories to hopefully do it some justice.
First just let me say, this is the absolute BEST way to travel! Simla and her team at Hands on Journeys tapped into something truly special - pairing travel with empowerment projects for the local communities gave us unique experiences that I will forever hold in my heart.
Our fist stop was to Siem Reap, Cambodia. I was the first of the group to arrive (naturally, if you know me you know I have a tendency to be punctual, even when trying not to) which meant I was able to spend a few extra hours with our tour guide Cham at the orphanage.
Oh Cham, he probably deserves a post to himself for all the laughs and joy he brought our group. He has a dynamic personality and he quickly became one of our friends and teacher of selfies - you'll see many throughout the pictures. He was also my breakfast buddy (he tends to be punctual as well) and we had many heart-to-heart chats that I will always treasure.
Our project in Siem Reap involved a local artist as well as a local orphanage and was set up in part by Jackson VanHarte, an American currently living and studying in Sydney, who has a very big heart. He has founded a nonprofit called Frontier Collection which helps empower local artists. He has also taken this orphanage under his wing, fully funding them when their sponsor didn't renew.
Through Jackson we were introduced to a local artist who had been through some hardships. He taught the children to paint and together we produced beautiful artwork that will be sold to benefit the orphanage.
The orphanage was a great introduction to the children of Cambodia. We met so many sweet, talented and funny kids who immediately stole our hearts. Teah, Min (who we quickly nicknamed Monkey), Lin and Chem are just a few that quickly took to us. They all have different stories and pasts, but they live as one big family with a focus on education.
We spent the days painting, teaching classes, putting up a new volleyball net, drawing and getting to know the children. It was lovely, but it was also HOT. This is where the tad bit of dehydration comes in...luckily I was able to catch it, spend an evening resting and putting some electrolytes and fluids back into by body to recover quickly! I was sad to miss a night out with the group, but they were so great to surprise me with Gatorade and food that evening when they returned.
This was the second time I had been to Cambodia, but the first time that I realized how different this trip was going to be. We were away from the tourist areas, we were having real conversations with the every-day people of this country and were able to connect on a much deeper level. While it was very hard to leave the kids to continue our journey, I'm glad to have had the experience and know they are in a safe and healthy environment. I also plan to stay in touch with Jackson and help to sell the paintings (link above!) to make sure the center stays funded.
While we were in Siem Reap we also explored Pub Street, the many markets and restaurants and the Temples. Angkor Wat, Angkor Thom, Bayon and Ta Prohm (where Tomb Raider was filmed) hold so much history and meaning. Our tour-guide-in-training Vibol has lived in Cambodia his whole life, but had never traveled to Siem Reap to be able to see the temples in person. Watching him take in his history was especially meaningful. We also saw the set of Amazing Race Poland being constructed as the teams were to arrive for their next challenge!
Siem Reap holds many special memories - it's where we made our first connections with the children of Cambodia, where we explored ancient Temples and ruins, where we were blessed by a Monk inside of Angkor Wat, where we discovered the coolness of rooftop restaurants and nightlife, and where we came together as a group to start our journey.
Other fun memories:
Foot massages on Pub Street people watching

Holden, Shara and Natalie getting the foot massage with little fish, and the man telling them it was Tilapia - you can imagine this became a running joke every time that fish was served for the rest of the trip :)

Mike and I getting a Thai Massage and having to wear funny little clothes - we looked like flannel elves! This was also entertaining as the massage therapist told me I was young and beautiful and everything about Mike was just "medium". The massage therapist was witty and we had fun with that! "Medium" became another running joke of the trip!

A fun group dinner that included traditional dances of Cambodia, poor Shara was sick at this one - it hit almost all of us at one time or another.

Tuk Tuk races and rides, waving at the locals.

The way the young girls looked at our Golden Holden! They were smitten and thought he looked just like Justin Bieber.

Learning how to get used to soup and Asian food for breakfast, after being sick it was a welcome addition to the Western Breakfast spread.

Rooftop bean bag bars with karaoke and dancing - one night Natalie was kind enough to give us massages up there, talk about the perfect evening!

Cham's nightly facebook messages to his "beloved travelers" telling them to be in the lobby at an exact time - such as 7pm Sharps (yes, with the s). We love our Cham and started telling him each night we'd be there at the Sharps...even though sometimes we were a minute or two late. Sorry, Cham!
Project Photos + The Children of Cambodia: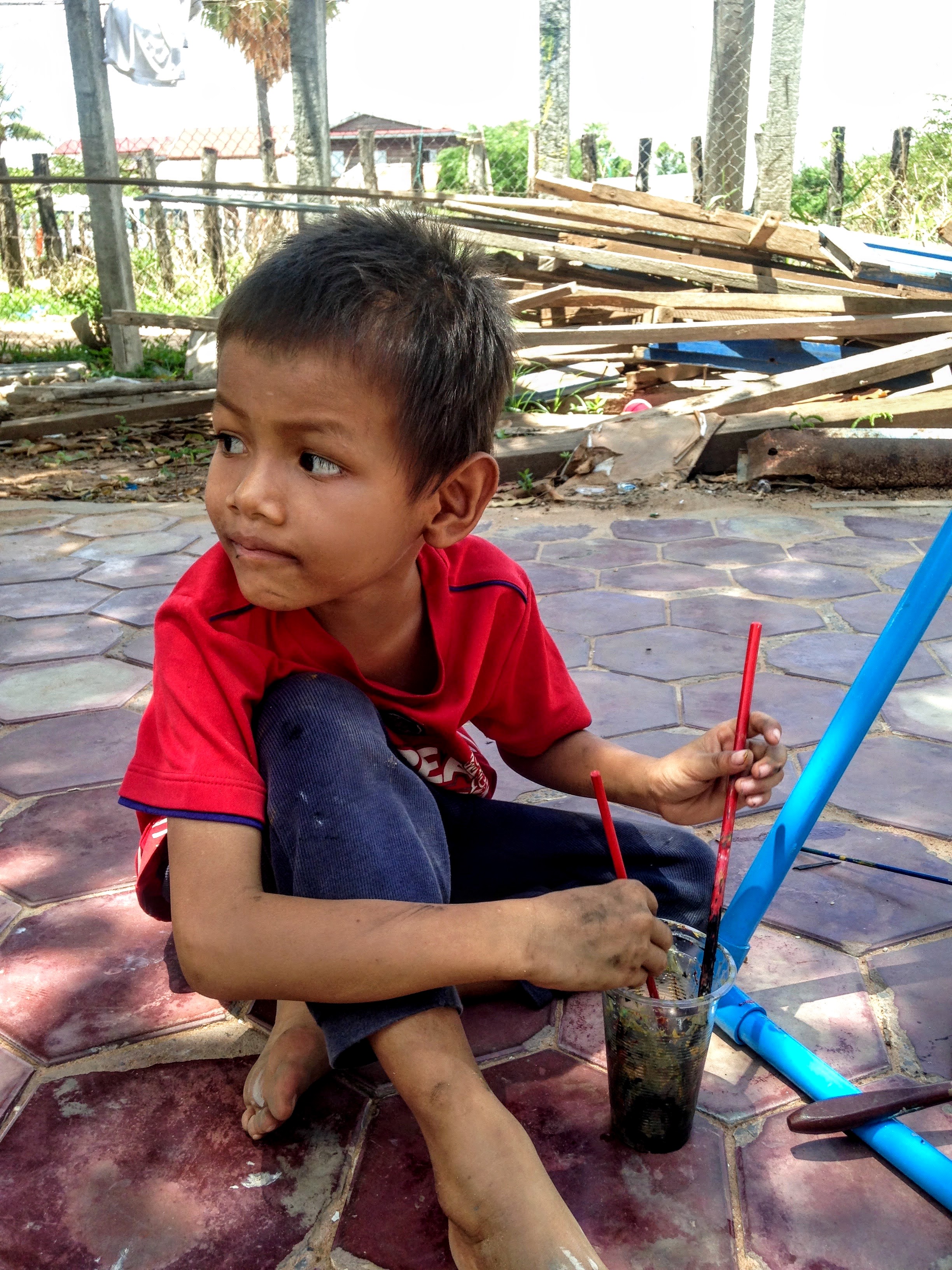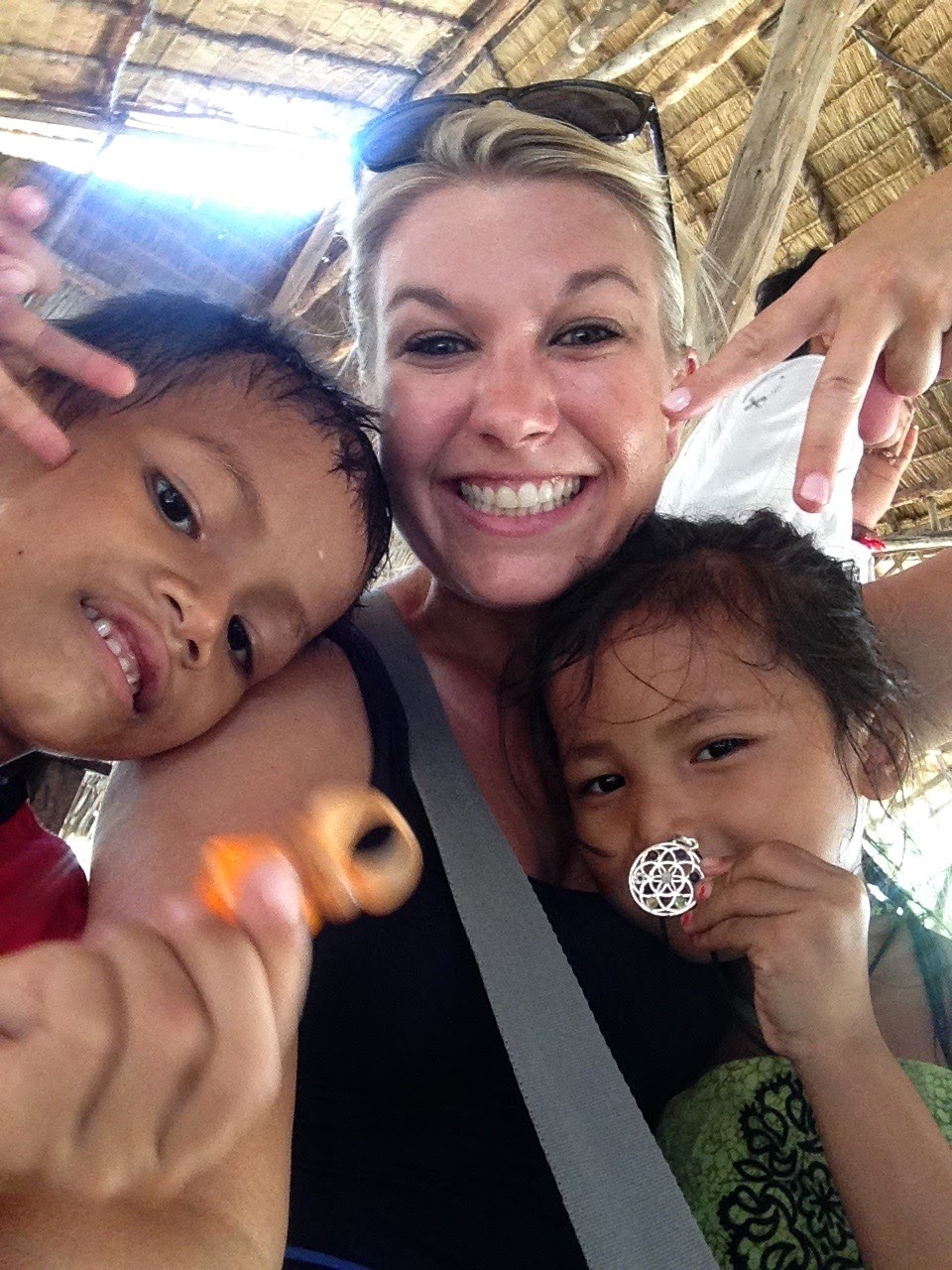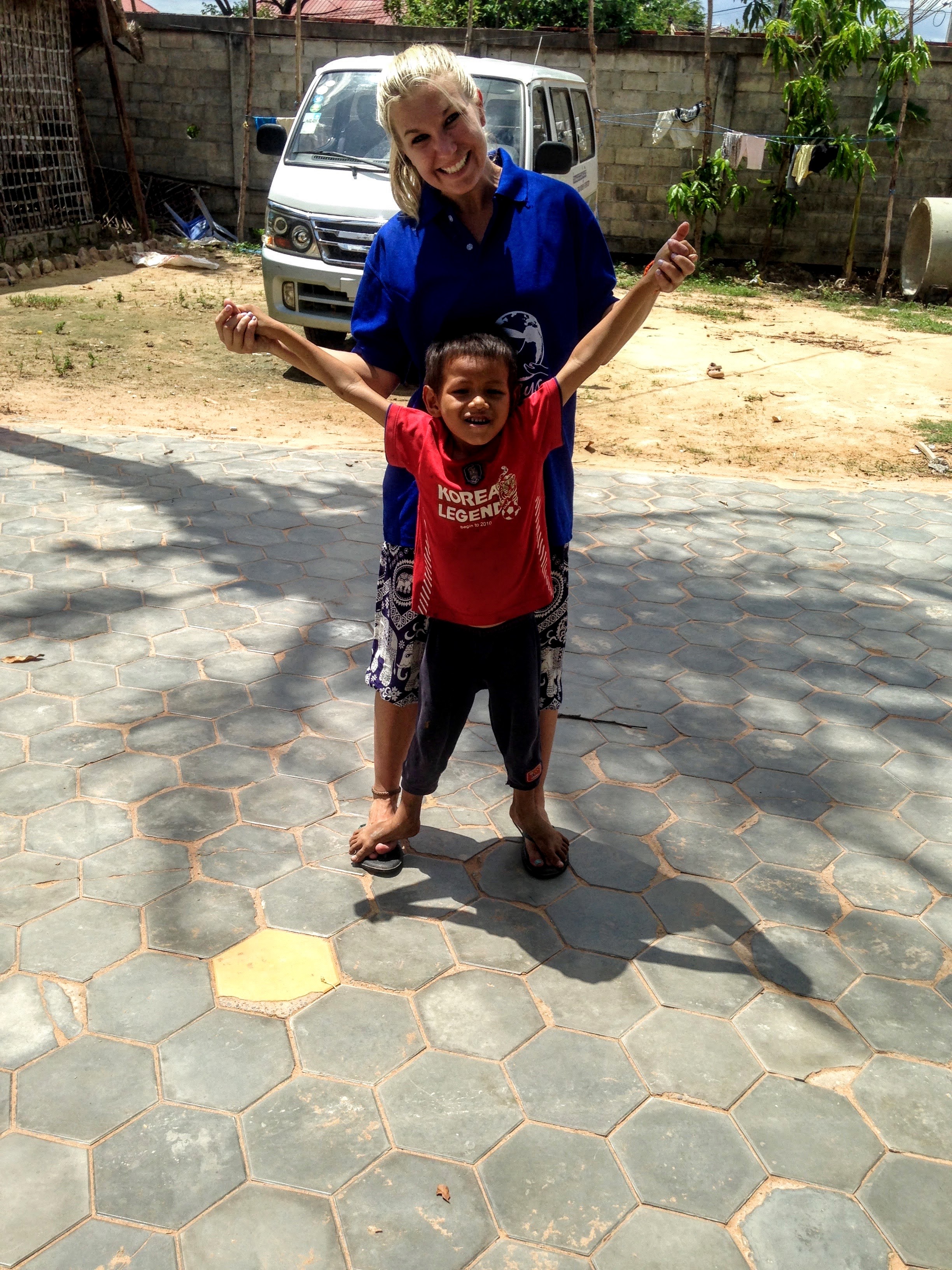 Temples and Exploring Siem Reap, Cambodia: